Zip Line Canopy Tour
The Zip line canopy tour that we offer is designed to last approximately 3.5 hour. It includes a 50 minuted drive to the site where the zip line canopy tour is done. As we drive to the canopy tour site we will be narrating the history of Belize and pointing out important site as we drive.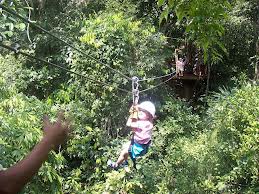 Upon our arrival at the site where the zip line canopy tour is done we will have a short restroom break. After the break you will be assisted with your gears for the zip line canopy tour. You will zipping through the canopy of Belize's rain forest for approximately an hour.
After the zip line canopy tour we will be heading to the Belize City. We will be passing the Belize Zoo. You can add the zoo to the day's activities with no extra cost. All you need to do is pay your entrance fees ( $15.00 per/ adult & $7.50 per/child ). We don't sell the Belize Zoo as a tour since we pass by.
$85.00
6 to 10 persons: $65.00
For last minute reservations or immediate assistance call the number below.
If you are calling from Canada or the United States dial the following numbers as shown: 011-501-600-2631
If you are calling using a local phone dial: 600-2631