Zip Line and Monkey Hunt
This tour is designed to last approximately 5.5 hour. It includes a 50 minuted drive to the site where the zip line canopy tour is done. As we drive to the canopy tour site we will be narrating the history of Belize and pointing out important site as we drive.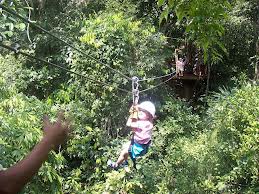 Upon our arrival at the site where the zip line canopy tour is done we will have a short restroom break. After the break you will be assisted with your gears for the zip line canopy tour. You will zipping through the canopy of Belize's rain forest for approximately an hour.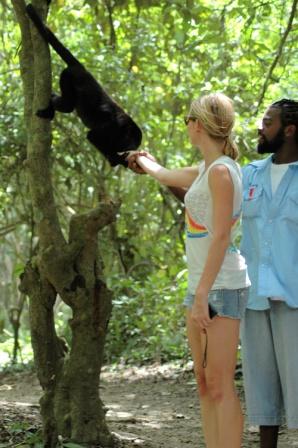 After the zip line canopy tour we will change into dry clothes. We will then drive an hour to the site where our Monkey Hunt tour is done. Upon our arrival you will be introduced to Shane ( Our Naturalist ), who does the Monkey Hunt tour. You will be hiking through the rain forest once again in search on howler monkeys. Thw howler monkey are in their natural habitat and you will get an upclose view of them……………you might also get a chance to touch one of them. The monkey hunt part of the tour last approximately 40 minutes.
After the monkey hunt tour you will be escorted back to your hotel or Belize Cruise Terminal if you are on a cruise. If you are staying Ambergris Caye San Pedro, or Caye Caulker, you will be escorted to the Marine Terminal.
$140.00
For last minute reservations or immediate assistance call the number below.
If you are calling from Canada or the United States dial the following numbers as shown: 011-501-600-2631
If you are calling using a local phone dial: 600-2631